FRESH BBQ SERVED
LATE NIGHT
DELICIOUS MEATS × CRAFTED WITH LOVE
Located off east 6th street, Rollin Smoke is some of the tastiest BBQ in Texas.
At Rollin Smoke we bring you our own special style of Texas Barbecue. We start with the highest quality oak and pecan, the best seasonings money can buy, and quality meats that just taste better. We use fresh baked buns from New World Bakery and all the Que is smoked on site in a Moberg Smoker for the freshest product possible. We specialize in brisket, pulled pork, and handmade jalapeño cheddar pork sausage. We also do a pork rib special on Friday and Pork Spare ribs on Saturday nights. Our dream is to serve you delicious meat and the most satisfaction we can possibly feel comes from your approval. We love what we do and we love seeing customers take that first bite.
1501 E. 6th St.
Austin, TX 78702
M-Tu Closed
Wed – Thu 11am – 8pm
Fr 11am–9pm
Sat 11am–9pm
Sun 11am–8pm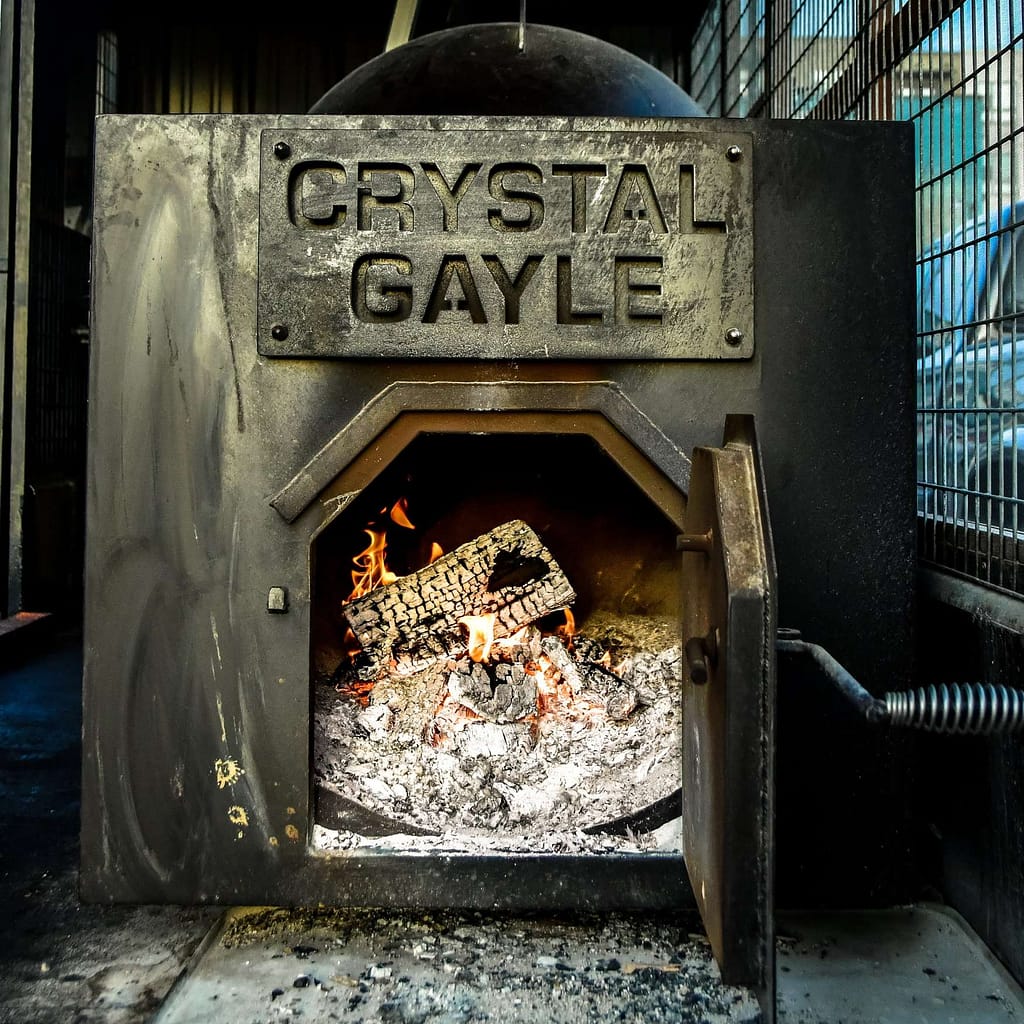 I have grown to absolutely LOVE this place. Open late, friendly staff, amazing BBQ and the macaroni and cheese is out of this world!!
— Yelp review from Savannah B.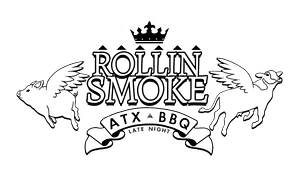 Tender pork shoulder made with our in-house rub, slow cooked & pulled off the bone.
Prime beef brisket made with our in-house rub, slow cooked to perfection then sliced to order.
Local handmade jalapeño cheddar pork sausage sliced and served on a fresh baked jalapeño cheddar bun.
Our famous slow-cooked pulled pork topped with home-made spicy slaw.
A Rollin'Smoke favorite. We start with a quarter-pound of brisket, add a quarter-pound of pulled pork and top it with a half-link of our jalapeño cheddar pork sausage.
Smoked portobello mushrooms with crunchy spicy slaw, pickles and onions.
Our pulled pork served in a fresh made tortilla with pickles, onions and our BBQ sauce.
$10 Pulled Pork / $12 Brisket
Our version of a Frito-pie starting with your choice of meat. Topped with our BBQ sauce, onions, cilantro and chipotle cream sauce. Sub Cheetos, as featured the Travel Channel.
Smoked portobello mushrooms with crunchy spicy slaw, pickles and onions.w.
Creamy four-cheese macaroni shells seasoned and smoked on the pit.
Made-to-order cabbage blend with jalapeños and cilantro tossed in our secret sauce..

The best thing about this place: If you cannot decide what you want, just get a playboy and you get a piece of everything from their delicious menu.
— Google review from Daniel Hardegger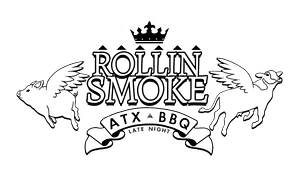 Best Barbecue in the East
Great Press from East Side ATX:
"Rollin Smoke is East Austin's David to the barbecue Goliaths that dominate the 'cue scene. Although small in stature, this meat is not short in flavor."
Late Night Barbecue Without Lines? Enter Rollin Smoke
Check out this shout out from the Austinot:
"From the moment you see Rollin Smoke BBQ's pink, spray-painted trailer at East 6th and Comal, you can tell they do things differently. With East Texas barbecue flavors and late night hours, Rollin Smoke does more than hold its own in a crowded field."
Best Food Trucks in Austin
Super blessed to be included in this list of pretty much our local heroes in the food truck game in Austin Texas.
Austin's Best Under the Radar Barbecue Trucks
Thankful to be included in this list from Austin Eater:
"Try the Silky Sandwich, a helping of pulled pork topped with spicy homemade coleslaw on a freshly baked bun."
East and Central Texas Barbecue Meet at the Spectacular Rollin Smoke
Check out this shout out from Texas Monthly:
"Stallings hails from Tyler, and describes the rest of his menu as "East Texas meets Central Texas." He smokes the massive pork spareribs often found in Central Texas, but they get a sweet glaze rather than just salt and pepper. "I'm not scared to sauce some ribs up a bit," he said, but the tender ribs aren't exactly dripping with the stuff. The brisket gets his universal rub, which contains salt, black pepper, chili powder, paprika, garlic, onion powder, and sugar. Slices from both the fatty and lean sides were spectacular."